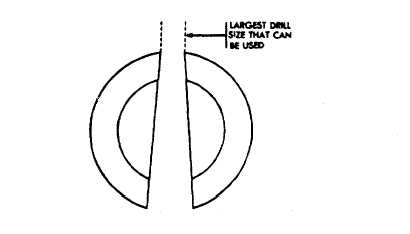 TM 9-254
CHAPTER 3
GENERAL MAINTENANCE PROCEDURES
Section I.  DRILLING AND REAMING FOR TAPERED PINS
3-1.
Tapered Pins and Tapered Holes.
a.
General
.  A tapered pin (fig. 3-1) may be defined as a metal rod with  a  diameter  that  decreases  uniformly.
Tapered pins are used to secure one part to another in a positive relation to each other, such as the securing of a knob to
a shaft.
Figure 3-1.  Assortment of Tapered Pins
b.
Numbering
System
.  All tapered pins are tapered similarly (1/4 in. per ft.) and certain diameters are identified
with numbers. All pins with the same number would then have the same maximum diameter; therefore, the longer the pin
(of any one number), the smaller the minimum diameter.
c.
Preparation
of
Parts
to
Receive
Tapered
Pin
.  When preparing parts to receive a tapered pin, a hole must be
drilled and then reamed with a tapered reamer.  The larger the drill used, within the scope of the taper, the less reaming
will be required.  Before drilling any hole for a tapered pin, it is necessary to know the minimum diameter of the pin to be
used  so  that  a  drill  may  be  selected  accordingly.    Refer  to  figure  3-2  and  table  3-1  for  selecting  the  proper  drill  size
required for a tapered hole.  When the proper drill size has been determined, the hole should be drilled and then reamed
with a tapered reamer of the correct number.
Figure 3-2.  Selection Drill for Tapered hole
3-1