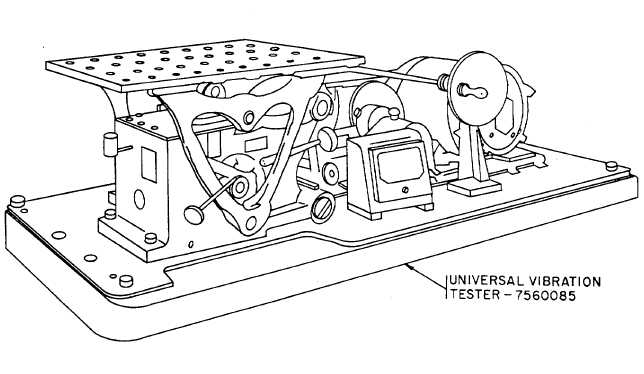 TM 9-254
10-9.
Universal Vibration Tester.
a.
Description
.    The  universal  vibration  tester  (fig.  10-10)  is  motor  driven.    It  has  a  vibration  table  to  which
various adapters for fire control instruments may be secured.  The amplitude and frequency of the tester are adjusted as
required by the specifications for the instruments to be tested.  Frequency of vibration is controlled by adjusting the weights
on  the  vibration  generator  shaft.    Varying  the  speed  of  the  tester  is  accomplished  by  adjusting  the  pitch  pulley  which  is
mounted on the motor shaft of the vibrator.
b.
Use
.      The   universal   vibration   tester   is   used   to   simulate   conditions   of   shock   and   vibration   normally
encountered  in  field  use  of  fire  control  instruments.    Through  its  use  it  can  be  determined  that  all  parts  are  properly
secured and that all dirt has been removed from inside the optical instrument.
Figure 10-10.  Universal Vibration Tester
10-10.
Lens Bench.
a.
Description
.  The lens bench shown in figure 10-11 is an instrument for measuring focal length of a single or
compound lens.  In addition, it can be used to test many other characteristics.
10-9