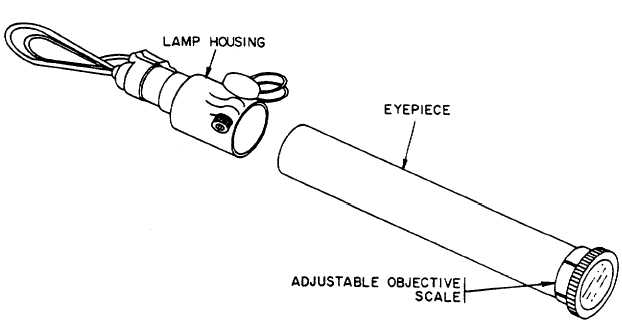 TM 9-254
CHAPTER 10
FIRE CONTROL TEST EQUIPMENT
Section I.  OPTICAL TEST INSTRUMENTS
10-1.
Scope.
The optical test instruments listed in this section are those most commonly used in the rebuild and inspection of fire control
instruments.  The test instruments are usually used in conjunction with test fixtures, V-blocks, and holding devices.
10-2.
Projector Collimator.
a.
Description
.    The  projector  collimator  (fig.  10-1)  is  an  optical  device  similar  to  an  ordinary  straight  tube
telescope except that it does not have an erecting system.  The eyepiece is designed and machined to accommodate a
lamp housing, which has a clamping screw so that it may be secured to the collimator.  The lamp housing is equipped with
a lamp assembly which provides illumination for the collimator.  The collimator contains  a  reticle  (fig.  10-2).    The  reticle
pattern is graduated in mils and a 1 mil square at the center is provided so that any adjustment or inspection necessitating
1/2 mil tolerance can be accurately made.  Smaller tolerances can be easily estimated.  Resolution marks on the reticle
are  provided  as  an  aid  when  checking  definition  of  the  instruments  optical  system.    The  objective  end  of  the  projector
collimator is adjustable and has an objective scale graduated with an infinity mark and four other marks representing 75,
100,  200,  and  500  yards,  so  the  objective  can  be  accurately  positioned,  setting  the  projector  collimator  at  the  correct
parallax distance.
b.
Use
.  The projector collimator serves as a testing target when used with various test fixtures for collimation and
final  inspection  of  fire  control  sighting  instruments.    The  collimator  is  also  used  for  checking  definition  of  field-of-view,
parallax, reticle plumb, and reticle accuracy.
Figure 10-1.  Project Collimator.
10-1