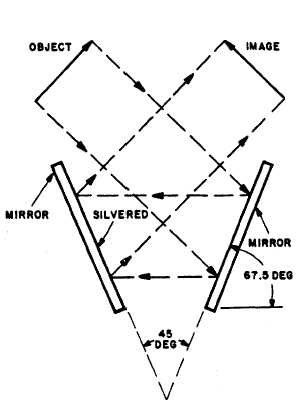 TM 9-254
9-2.
Optical Components - Continued
f.
Mirrors
.  Mirrors used to reflect the paths of light in fire control instruments are termed front surface mirrors.
The  silver  coating,  on  the  mirror,  is  put  on  the  front  of  the  glass  instead  of  on  the  back  of  the  glass  like  a  common
household mirror.  Optical mirrors are sometimes used to reflect light rays in a manner which simulates the same effect
that a prism would have in an optical system (fig. 9-17).  Mirrors can also be used in the auto collimations of fire control
test  fixtures.    Another  form  of  optical  mirror,  known  as  a  beam  splitter  (partial  reflector)  is  a  flat  piece  of  glass  lightly
silvered so that some of the light rays will pass through the glass while others will be reflected off the silvered surface.
Figure 9-17.  Using Mirrors to Simulate a Penta Prism
g.
Reticles
.  Reticles are patterns placed in the focal plane of the  objective  for  a  fire  control  instrument  which
appear to the observer to be superimposed upon the field of view (fig. 9-18).  They are used as a reference point when
sighting and aiming for the purpose of calculating angular displacement and distance.  Examples of some reticles used in
fire control instruments are shown in (fig. 9-19).
9-11