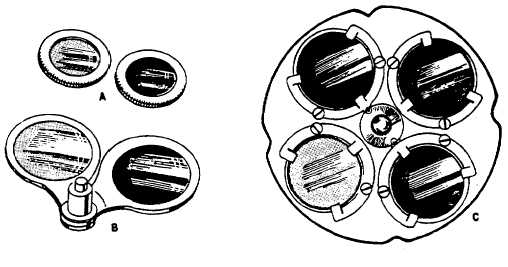 TM 9-254
9-2.
Optical Components - Continued
c.
Filters
(Colored)
.  Filters (or ray filters) are colored glass disks with plane parallel surfaces.  They are placed
in the path of light through the optical system of a fire control instrument to reduce glare and light intensities.  They are
provided as separate elements (A, fig. 9-8) or mounted so they may be placed in or out of position as desired (B and C, fig.
9-8).  Filters of various.  colors are used to improve visibility under different atmospheric and light conditions.  Some of the
more common colors of filters used are: smoke, yellow, amber, blue, red, and greenish-yellow.
Figure 9-8.  Types of Filter Mounting
(1)
The smoke (neutral) filter evenly reduces the intensity of light throughout the visible spectrum (used for
observing against sun).
(2)
Yellow and amber filters are used to protect the eyes from glare reflected from objects being viewed; for
example, the reflection of sunlight on water.
(3)
Amber and red filters are usually employed under various conditions of fog and ground haze.  Red filters
are also used to observe tracer fire.
(4)
Blue filters are helpful in detecting the outlines of camouflaged objects.
(5)
Greenish-yellow filters are intended to serve the purpose of both smoke and amber.
d.
Filters
(Polarizing)
.  Polarizing filters, do not  change  the  color  of  objects  but  merely  decrease  light  intensity
and eliminate glare.  The substances used for polarizing filters can be considered as being made up of very minute parallel
bars  or  grains.    A  polarizing  substance,  placed  in  the  path  of  the  light,  permits  only  light  waves  that  are  parallel  to  the
direction of the grain to pass through.  Those light rays traveling at right angles to the bars or grain are blocked as shown
in figure 9-9.
Change 2  9-6