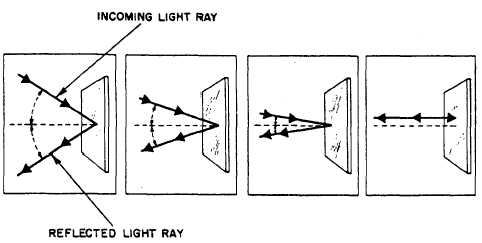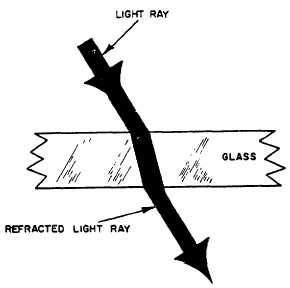 TM 9-254
9-1.
Optical Terms - Continued
n.
Reflection
.  Light striking a surface and returning or bouncing back as shown in figure 9-5.
Figure 9-5.  Reflection From a Plane Mirror
o.
Refraction.  The bending of light due to a change in speed which occurs when a ray of light passes from one
medium to another of different optical density, as shown in figure 9-6.
Figure 9-6.  Effects of Refraction
p.
Roll
Test
.  A test usually performed on instruments such as telescopes or optical alignment devices which are
required  to  rotate  on  bearing  surfaces.    The  mechanical  and  optical  axis  of  the  instrument  must  be  coincident  of  each
other when rotated through 360 degrees.
q.
Separation
.  This condition results when the cement between the surface of a compound lens breaks down.
It shows up as jagged lines or streaks, yellowish in color between the two lenses.
Change 2  9-4