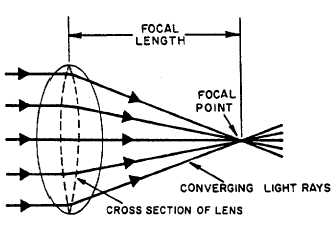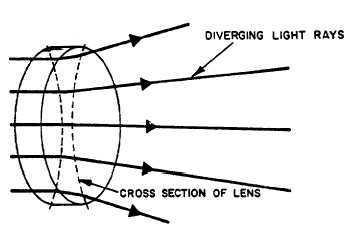 TM 9-254
9-1.
Optical Terms - Continued
Figure 9-1.  Deviation of Light Rays Through a Converging Lens
Figure 9-2.  Deviation of Light Rays Through a Diverging Lens
g.
Field
-
of
-
View
.  The true field-of-view of any optical instrument is the extent (the width and height) of what can
be seen at one time by looking through the instrument.
h.
Focal
Length
.  The distance from the focal point back to the surface of a mirror or optical center of a lens, as
shown in figure 9-1.
i.
Focal
Point
.  The point at which rays of light converge when they pass through a lens, as shown in figure 9-1.
j.
Focus
.  To adjust the eyepiece of a telescope, so that the image is clearly seen by the eye.
k.
Newton's
Rings
.  When positive (convergent) lens and negative (divergent) lens of slightly unequal curvature
are pressed one against the other, irregular bands or patches of color appear between the surfaces of the two lenses, as
shown in figure 9-3.
l.
Parallax
.  Optically, parallax in a telescope with a reticle is any apparent movement of the reticle in relation to
distant objects in the field-of-view observed by movement of the observer's head.  This condition exists when the image in
the telescope lies in one focal plane and the reticle lies in another.
Change 2  9-2