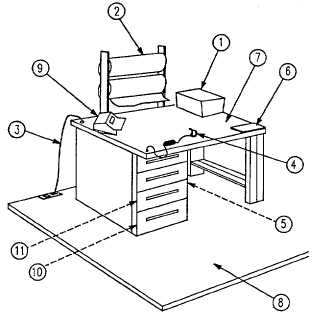 TM 9-254
NOTE
Items 5, 10, and 11 are not show directly, 10 and 11 being stored within the drawers of the bench.
LEGEND
1
Conductive   tote   boxes   lined   with   antistatic   or
static dissipative material.
2
ESD protective wrapping and film materials.
3
Grounding   strap   from   conductive   table   top   to
common ground at conductive floor mat.
4
Conductive   wrist   strap   to   ground   with   a   one
megohm resistor imbedded in line.
5
Parts carriers, mailers, shunting devices, etc.
6
Precautionary signs.
7
Conductive  table  top  in  the  range  of  106  -    108
ohms per square.
8
Conductive floor mat in the range of zero to 104
ohms per square.
9
Air  ionizers  (to  bring  all  materials  entering  the
work area to equal potentials.)
10
Chair covers and shoe grounders or heel straps.
11
Warning labels for packages.
Figure 8-18.  ESD Protective Workstation (2 Operator Station shown)
Change 3  8-30