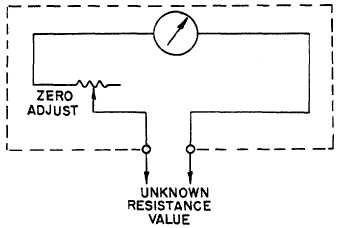 TM 9-254
8-2.
Meter Usage - Continued
(b)
Before  attempting  to  make  a  resistance  measurement,  touch  the  ends  of  the  leads  together  and
zero adjust the ohmmeter.
(c)
If it becomes necessary to change the range setting of the ohmmeter, always zero adjust the meter
before proceeding with the measurement.
Figure 8-3.  Proper Ohmmeter Connection
f.
Transistor Test Technique with an Ohmmeter.  The ohmmeter can do more than check for shorted or open
circuit conditions.  It can also be used to check the operating condition of transistors.  Since the ohmmeter function of a
multimeter has the same basic function  as  a  transistor  tester,  the  ohmmeter  can  be  a  valuable  piece  of  test  equipment
when it is used to check transistor characteristics.
(1)
Test requirements.
(a)
Before  the  instrument's  test  leads  are  connected  across  a  transistor,  a  few  characteristics  of  the
ohmmeter must be understood.  Its internal test potential may be anywhere from 1.5 volts to beyond
6 volts.  The higher potential, if used, is likely to be involved only on the highest resistance ranges.
Some  transistors  may  be  damaged  when  potentials  in  excess  of  6  volts  are  applied.    To  avoid
damage  due  to  excessive  current,  we  would  also  want  some  current-limiting  resistance  in  series
with   the   ohmmeter's   test   voltage.      An   inspection   of   the   ohmmeter   circuit   will   indicate   which
resistance  ranges  may  be  used  and  which  to  avoid.  In  general,  avoiding  the  highest  resistance
ranges  (possibly  excessive  voltage)  and  the  lowest  (possibly  excessive  current)  will  be  sufficient
precaution.  The R x 10 or R x 100 scales may be considered safe.
(b)
Polarity  of  the   internal   battery   must   also   be   considered.      In   most   instruments,   the   ground   or
common lead (black) goes to the negative side of the battery, with the hot or red lead going to the
positive  side.    If  this  situation  is  reversed,  the  user  must  be  aware  of  the  fact.    In  all  tests  to  be
discussed,  references  to  a  positive  lead  or  connection,  or  to  a  negative  lead  or  connection,  are
always related to the polarity of the battery rather than the identification of the lead, where these two
factors do not agree with each other.
Change 1  8-4