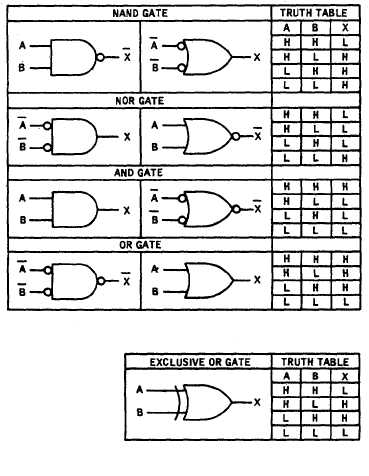 TM 9-254
7-10.
Logic Component Schematic Symbols.
a.
Many systems will contain some amount of digital or logic circuitry.  Special logic symbols are used along with
truth  tables  which  describe  the  logic  function  performed.    Figure  7-19  shows  the  basic  logic  gate  symbols  and  their
corresponding truth table. MIL-STD-806 provides a complete reference for approved military logic symbols.
GATE SYMBOLS REPRESENT A SPECIFIC TYPE OF HARDWARE
DESCRIBED BY THE FOLLOWING TRUTH TABLE.
Figure 7-19.  Logic Gate Symbols
b.
The  logic  gates  shown  in  figure  7-19  have  only  two  inputs.    In  reality  these  gates  may  have  many  inputs
dependent on the loading capacity of the device.  Logic gates are normally packaged together in an integrated circuit (IC)
package.  These IC's come in various shapes and sizes.  An IC data book will provide the appropriate circuit schematic
and specification for the device.
7-21