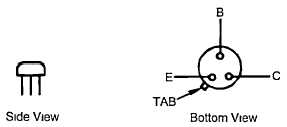 TM 9-254
7-7.  Semiconductor Identification - Continued
a.   

Transistors

.    Transistors  are  now  found  in  almost  every  type  of  electronic  circuit  Although  they  come  in  many
sizes  and  serve  many  functions,  the  two  most  common  types  encountered  are  the  N-P-N  and  the  P-N-P.    The
schematic  diagrams  for  these  transistors  are  found  in  figure  7-15.    Standard  convention  is  for  the  arrow  in  the
schematic to point toward the N type material.
N-P-N
P-N-P
Figure 7-15.  N-P-N and P-N-P Transistors
(1)
Transistors are marked with a 2N which identifies the part as a transistor followed by a series of numbers which
identify the type of transistor.  This number is found on the top or side of the transistor package.  Transistors are
packaged  in  a  wide  variety  of  different  containers.    The  most  common  packaging  encountered  is  the  three  lead,
can-like package shown in figure 7-16.
Figure 7-16.  Transistor Packaging
(1)
Typically the emitter (E) is the lead closest to the tab on the transistor as shown in figure 7-16.  The base (B) and
collector (C) are found by going clockwise from the emitter while looking at the bottom of the transistor.
NOTE
These  are  typical  connections  most  commonly  found.    A  transistor  data  book
which provides drawings of connection layout should be used to verify the proper
connections for a specific type of transistor.
a.   

Dual

-

In

-

Line

Packages

(DIPs)

.    These  components  are  rectangular,  integrated  circuit  components  with  leads  usually
mounted through the board Dimensions and numbers of leads vary.  Index or orientation markings appear in the center of
one   short   side   of   the   component   body,   while   lead   numbers   appear   on   top   of   the   component   and   are   read   in   a
counterclockwise direction.
Change 6  7-15