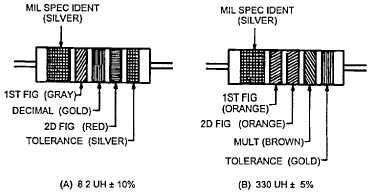 TM 9-254
7-6  Inductor Identification.
Although  not  used  as  much  as  resistors  and  capacitors,  inductors  are  used  generally  in  tuning  sections  of  electronic
circuits  Inductors  may  be  fixed  or  variable  as  is  the  case  with  resistors  and  capacitors.    Figure  7-12  provides  several
examples  and  indicates  the  color  code  used  for  marking  radio  frequency  (rf)  inductors.    Variable  inductors  will  usually
have the size and voltage ratings marked on the side of the inductor.
COLOR CODE MARKING FOR MILITARY
STANDARD INDUCTORS
COLOR CODING FOR TABULAR ENCAPSULATED R F.  CHOKES AT A, AN EXAMPLE
OF THE CODING FOR AN 8 2 UH CHOKE IS GIVEN AT B.  THE COLOR BANDS FOR
A 330 UH INDUCTOR ARE ILLUSTRATED
COLOR CODING FOR TABULAR ENCAPSULATED R F CHOKES
SIGNIFICANT
INDUCTANCE
COLOR
FIGURE
MULTIPLIER
TOLERANCE
(PERCENT)
BLACK
0
1
1
BROWN
1
10
2
RED
2
100
3
ORANGE
3
1,000
YELLOW
4
GREEN
5
BLUE
6
VIOLET
7
GRAY
8
WHITE
9
NONE
20
SILVER
10
GOLD
DECIMAL POINT
5
MULTIPLIER IS THE FACTOR BY WHICH THE TWO COLOR FIGURES
ARE MULTIPLIED TO OBTAIN THE INDUCTANCE VALUE OF THE
CHOKE COIL
Figure 7-12.  RF Inductor Identification
7-13