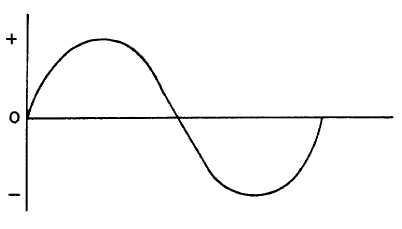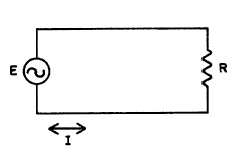 TM 9-254
7-3.
Alternating Current.
a.
General
.    Alternating  current  or  AC  consists  of  the  flow  of  electrons  in  first  one  direction  and  then  in  the
opposite  (alternate)  direction  in  a  closed  circuit.    Typical  AC  such  as  household  current  switches  direction  in  a  cyclic
manner as shown by the sine wave in figure 7-4.
Figure 7-4.  AC Sine Wave
b.
Ohm's
Law
for
AC
Circuits
.    The  difference  between  Ohm's  Law  for  DC  and  Ohm's  Law  for  AC  is  the
resistance  (R)  has  been  replaced  by  the  impedance  (Z).    Ohm's  Law  states  that  the  current  flowing  in  an  AC  circuit  is
directly proportional to the applied voltage and inversely proportional to the circuit impedance.  Figure 7-5 shows a simple
AC circuit and the various forms of Ohm's Law which apply to AC circuits.
I =
E
Z
E = IZ
E =
E
I
Where:
E is the voltage in volts.
I is the current in amperes.
Z is the impedance in ohms.
Figure 7-5.  Ohm's Law for AC Circuits
7-4