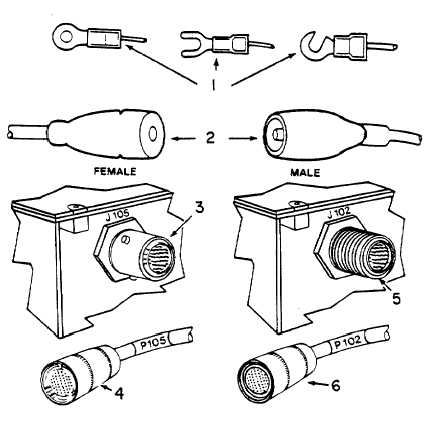 TM 9-254
Section II.  CABLE CONNECTORS
6-6.
General.
When selecting connectors, there are three main characteristics to consider:  the size of the cable, the method of coupling
or mating, and the method of cable retention  The three methods of attaching the connector to the cable are:  soldering,
clamping, and crimping.
6-7.
Connector Familiarization.
a.
Types of Cable Connectors (fig. 6-7).  There are many types of connectors such as:
(1)
Terminal lugs (1).
(2)
Push or pull rubber connectors (2).
(3)
Twist type quick disconnect connectors with receptacle (3) and plug (4).
(4)
Screw type connectors with receptacle (5) and plug (6).
b.
Advantages
and
Disadvantages
.    There  are  advantages  and  disadvantages  with  each  type  of  connector.
Some  are  apparent,  such  as  the  ease  of  connecting  a  push  or  pull  connector  compared  to  a  threaded  screw  type
connector.  Some are not so apparent such as circuit noise generated by a twist type quick disconnect connector.
Figure 6-7.  Types of Cable connectors
6-5