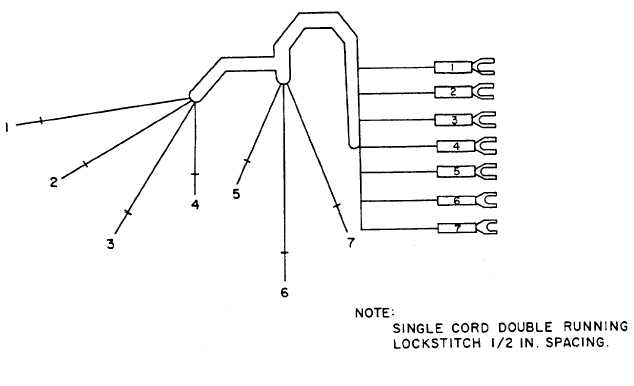 TM 9-254
CHAPTER 6
CABLES, HARNESSES, AND CONNECTORS
Section I. FABRICATION OF WIRING HARNESSES
6-1.
General.
The majority  of  wiring  harnesses  for  fire  control  equipment  are  included  in  the  pertinent  supply  manual.    The  remaining
harnesses will be fabricated from bulk wire as specified in the applicable rebuild instructions.  This section describes wire
preparation, pin board use, wire coding, and harness lacing
6-2.
Preparing Wires.
Cut the wire to the lengths listed in the wiring diagram referenced in the applicable instructions (lengths specified are for
wires before attaching terminals).  The type and size of wires are in the listing.  Strip the wires as specified and tin the ends
of all wires to which terminal lugs are to be soldered.  In stripping the insulation, do not nick the wires.
Figure 6-1. Typical Wiring Harness Diagram
6-1