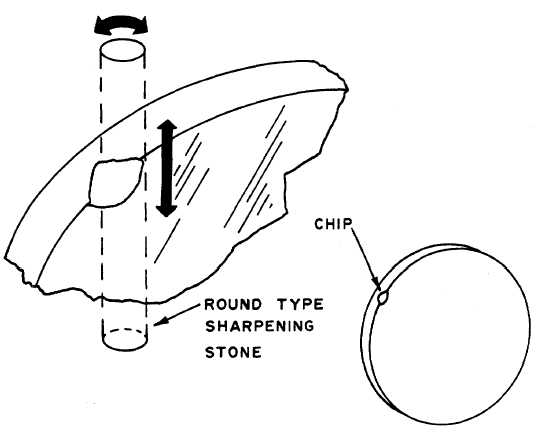 TM 9-254
4-23.
Removing Nicks and Burrs - Continued
(5)
After removing all nicks, burrs, and bumps rub the surface with fine abrasive cloth until the surfaces are
smooth.
4-24.
Grinding Chipped Windows.
Glass windows may become chipped around the edges during normal usage or disassembly.  The sharp edges can cause
cuts to personnel and damage to equipment and therefore must be removed.
(1)
Use a round type sharpening stone to rub back and forth over the chip as shown in figure 4-52.
(2)
Use only light pressure of the stone on the glass.  Rotate the stone as you rub it back and forth on the
glass.
(3)
Every few minutes, inspect the chip for smoothness of edges.  When all sharp edges are gone repeat
the process on other chips on the window edge if they are present.
Figure 4-52.  Grinding Window Chips
4-56