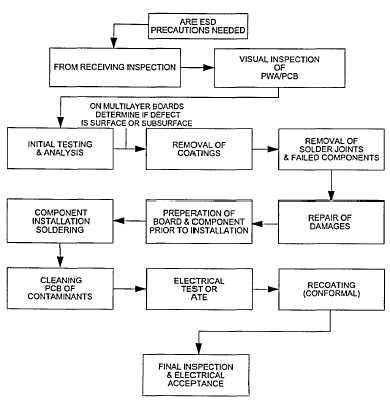 TM 9-254
4-17.  Printed Circuit Boards - Continued
j.
Damaged
Conductor
Repair
Procedure
for
Single
Layer
Boards
.
(1)
Solid Wire.  All breaks in wire conductors must be repaired  so that no reduction in cross section thickness will
result.    Table  4-8  provides  equivalent  conductor  widths  and  solid  wire  diameters.    It  is  assumed  that  the  broken
conductor is of the 2-ounce type which provides a margin of safety in selecting the equivalent wire diameter.  Proceed
as follows:
(a)
Measure the conductor width and select the equivalent or next larger diameter solid wire.
Table 4-8.  Proper Wire Selection
Conductor
Equivalent solid
width (2-oz.)
wire diameter
0.010
#34(0.006)
0.015
#32(0.008)
0.020
#31(0.009)
0.031
#29(0.011)
0.062
#26(0.016)
0.125
#23(0.023)
Figure 4-44.4.  Repair-Sequence Flow Chart
4-46.2  Change 6