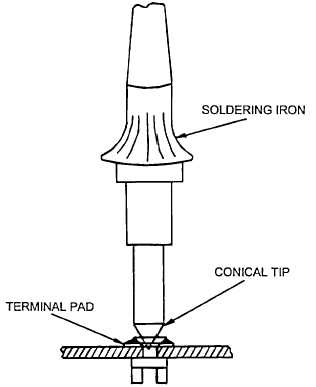 TM 9-254
4-17.  Printed Circuit Board - Continued
(4)
Make a V or funnel type swage on the terminal.  The point of the V swage should enter the terminal shank only far
enough to produce a hand tight fit of the terminal as shown in figure 4-43.  If solder rings are used, place the ring
over  the  terminal  shank  before  swaying.    Solder  rings  are  recommended  since  they  give  a  more  uniform  and
reliable solder joint.
Figure 4-43.  Terminal After Swaging
(4)
Place the soldering iron tip over the terminal head, as shown in figure 4-44, and apply solder to the joint where the
terminal  shank  and  pad  intersect.    Allow  the  solder  to  flow  properly  and  then  remove  the  soldering  iron  tip  from
the terminal head.  The solder should completely cover the pad and form a neat uniform joint.
Figure 4-44.  Soldering Swaged Terminal
(4)
Carefully clean the soldered joint with alcohol and a medium stiff bristle brush.
(5)
Inspect  all  joints.    If  any  joint  should  require  resoldering,  add  a  small  amount  of  new  solder  after  reheating  the
joint.
4-45