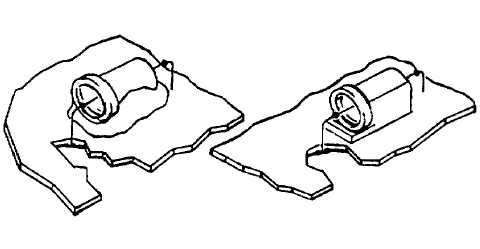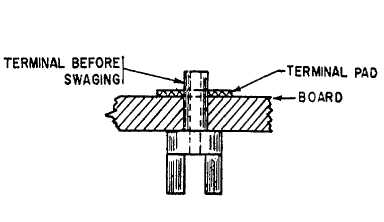 TM 9-254
4-17.
Printed Circuit Boards - Continued
Figure 4-41.  Flush Mounting - Examples
h.
Soldering
.  To prevent damage from excessive heat the soldering iron should never be left in contact with the
printed-wiring conductor for longer than 5 seconds on paper baseboards, or 8 seconds on fiberglass epoxy baseboards.
Excessive heat will cause delamination.  If soldering operations exceed the time limits, allow a 30 second cooling period
before continuing the soldering operation.
i.
Component
Weight
.    Component  parts  that  weigh  one-half  of  an  ounce  or  more  should  be  secured  by  a
suitable mounting bracket or potted with an approved epoxy resin.
j.
Mounting
and
Soldering
Terminals
.  When mounting and soldering terminals to printed circuit wiring boards,
the procedures listed below should be followed:
(1)
Drill the pad hole to a diameter that will permit the terminal shank to be pressed through the board by
hand. A press fit is not necessary, but the terminal should fit snugly enough to prevent it from falling out.
(2)
Clean the terminal pad with a swab or brush and alcohol. If this method fails to clean the area properly, a
soft eraser may be used.
(3)
Press the terminal shank through the board and aline the terminal as shown in figure 4-42.
Figure 4-42.  Terminal Before Swaging
4-44