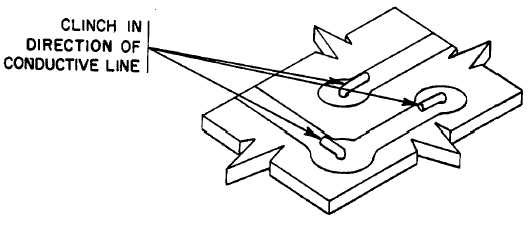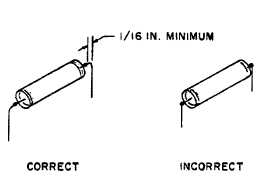 TM 9-254
4-17.
Printed Circuit Boards - Continued
Figure 4-39.  Direction of Pigtail Cinch
(6)
Component leads that cannot be bent or clinched flush with the circuit should be properly cleaned and
cut  to  a  length  that  will  permit  the  lead  to  extend  one  thirty-second  of  an  inch  above  the  solder  pad.
Components mounted in this manner shall be secured rigid to the board with a suitable mounting clamp
or approved resin.
(7)
With   tantalytic   capacitors   and   other   components   which   have   welded   leads,   the   bend   should   be
measured from the weld rather than from the component body as shown in figure 4-40.
Figure 4-40.  Welded Lead with Proper Bend
e.
Handling
.
Whenever  practicable,  the  manual  handling  of  printed  circuit  pads,  terminals,  and  component
leads   should   be   avoided.      When   manual   handling   is   necessary,   wear   white   gloves   to   prevent   body   acids   from
contaminating the item.
f.
Component
Mounting
(fig
.
4
-
41)
.  Components should be mounted flush with the circuit board unless potted
or supported by a suitable retaining clamp.
g.
Cleaning
.
When soldering printed circuits, clean circuit pad with a swab or brush and alcohol.  A soft eraser
may be used if the alcohol method fails to clean the area properly.  After cleaning with an eraser, lightly brush to remove
eraser particles.
4-43