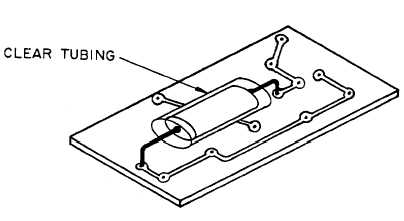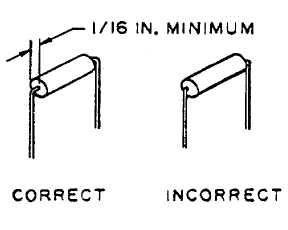 TM 9-254
4-17.
Printed Circuit Boards-Continued
Figure 4-37.  Crossing Conductive Lines
(2)
Pigtails should have a minimum clearance of one-sixteenth of an inch between bend and component body as
shown in figure 4-38.  When making the minimum bend, support end seal of component with wire-bending
pliers.
Figure 4-38.  Minimum Pigtail Bend
(3)
Extremely sharp 90 degree pigtail bends will not be accepted.  All bends should be made with a gradual
curve.
(4)
The radius of the bend should be equal to, or greater than twice the lead diameter.
(5)
Component pigtails will extend through the printed circuit boards a minimum of one-sixteenth of an inch
to a maximum of one-eighth of an inch and  will  be  clinched  flush  with  the  circuit.    The  bend  or  clinch
must be in the same direction as the conductive line to which the pigtail is attached as shown in figure 4-
39.      The   clinching   tool   shall   be   of   wood   or   plastic   to   prevent   damage   to   the   printed   circuit   or
components.
4-42