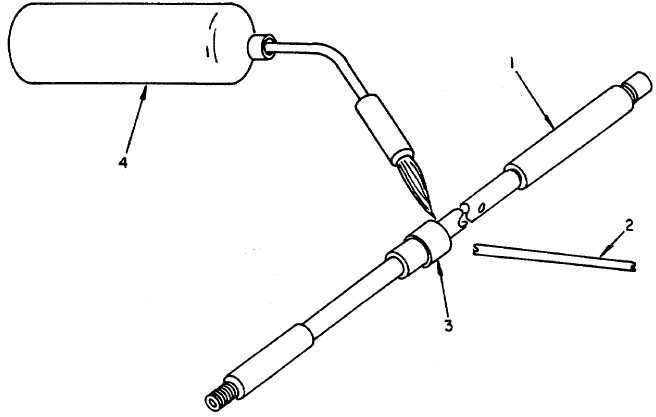 TM 9-254
4-13.
Soldering Techniques - Continued
WARNING
Exercise good safety rules when operating a torch.  The flame of a torch produces extremely high
temperatures which can cause severe burn injuries.
NOTE
In steps (3) and (4) below, refer to figure 4-27.
(3)
Position   the   shaft   collar   (3)   onto   the   shouldered   shaft   (1).      Ignite   the   torch   (4)   and   preheat   the
shouldered shaft and shaft collar.  Periodically remove the flame of the torch from the area being heated
and apply solder (2) to the joint of the shouldered shaft and the shaft collar.  If solder does not melt into
the joint, remove the solder and reapply heat.
KEY to figure 4-27:
1.
Shaft, shouldered
3.
Collar, shaft
2.
Solder
4.
Torch
Figure 4-27.  Soldering Shaft Collar to Shaft
4-32