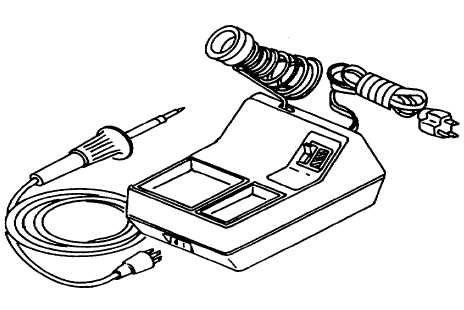 TM 9-254
4-12.
Soldering Station-continued
Figure 4-22.  Electric Soldering Station
b.
Principles
of
Operation
.    The  electric  soldering  iron  transmits  heat  to  the  tip  after  the  heat  is  produced  by
electric current which flows through a self-contained coil of resistance wire called the heating element (fig. 4-23).
(1)
This  type  of  soldering  iron  contains  a  closed  loop  method  of  automatically  controlling  maximum  tip
temperature thereby protecting temperature sensitive components.
(2)
The tip (3) is electrically grounded to protect voltage and current sensitive components.  Tip sizes range
from one thirty-second of an inch in diameter to fifteen sixty-fourth of an inch in diameter with a choice of
tip temperatures 600, 700, and 800°F.
(3)
The power unit base (7) contains a tray (8) for holding iron tips, a sponge (9) for keeping the tip clean,
and an iron holder (10) for supporting the iron when not in use.
c.
Tinning
the
Soldering
Tip
(fig
.
4
-
23)
.    Before  any  soldering  can  be  accomplished,  the  tip  should  be  tinned
(coated with solder) to aid in heat transfer and assure good solder flow.
(1)
Select the desired size tip (3) and position tip into barrel nut assembly (4).  Secure barrel nut assembly
to the heater (2) and place soldering iron (1) into iron holder (10).
4-26