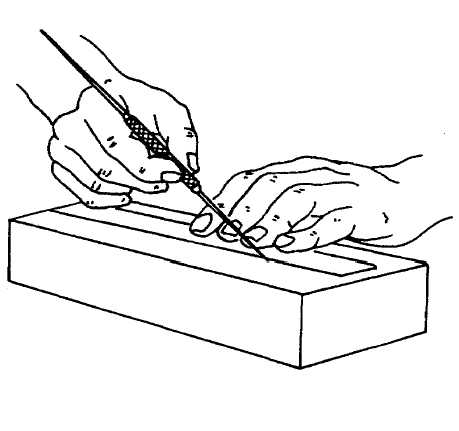 TM 9-254
4-8.
Using the Scribers-Continued
Figure 4-21.  Using the Scriber
e.
Scribing
the
Line
.  Scribe the line by drawing the scriber along the edge of the rule, at a 45 degree angle and
tipped outward slightly in the direction it is being moved.
4-10.
Care of Scribers.
Place a cork or soft wood over the point of scriber when not in use.  Coat scriber with rust prevention compound before
storage.    Do  not  store  scribers  in  drawer  with  other  tools.    This  practice  can  cause  damage  to  scribers  and  injury  to
personnel.  Rack properly and stow in a suitable box.  Do not use scribers for purposes other than those intended.
Section III.  SOLDERING AND DESOLDERING TECHNIQUES
4-11.
Soldering.
Soldering is joining two pieces of metal by adhesion. The soldering iron is the source of heat for melting solder and heating
the parts to be joined to the proper temperature.
4-12.
Soldering Station.
a.
General
.  Temperature regulation is a important factor when making any solder  connection.  For this reason,
never use an electric soldering gun.  Use an electric soldering station such as the one shown in figure 4-22.
4-25