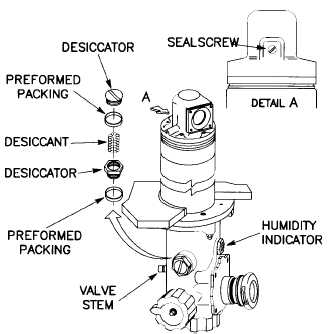 TM   750-116
(2)   Optical   System.
(a)
2-5.a.
(b)
(c)
(d)
(e)
Perform purging and charging procedure para
Relief valve should open between 3-10 psig.
Purge instrument at 7 psig  for 5 minutes.
Ensure relief valve closes between 1-5 psig.
Leak test for minimum of 5 minutes.
h. Panoramic  Telescope,  M901A1  (fig.  3–76).
NOTE
Purge panoramic telescope when the internal
optical surfaces are fogged over. Replace the
desiccant and two preformed packings every
time the unit is purged. Do not attempt to check
the pressure in the panoramic telescope at any
other time than during the pressurization cycle.
Loss of pressure resulting from such attempts
will shorten the time between maintenance
actions.
(1)

Remove  desiccator  by  unscrewing  container  part
(hex  head)  from  telescope  body.
(2)

Hold container part upright and remove slotted cap
of  desiccator.
(3)

Discard  old  desiccant.  Discard  two  preformed
packings from desiccator. Install desiccator.
Figure  3-76  Panoramic  Telescope,  M901A1
(4) Close  nitrogen  tank  valve  and  pressure  regulator
valve.
3-32
Contamination can damage the telescope.
Blow

pressurized nitrogen through the
charging lines to remove contamination.
(5) Open tank supply valve and observe high pressure
gauge indicating that tank is pressurized.
(6)

Remove lockwire and cap from valve stem.
The sealscrew is a captive screw and must
not be removed. Removal of the screw dam-
ages equipment.
(7) Install hose assembly on valve stem and loosen
setscrew.
(8) Adjust pressure regulator to 4-5 psig (28 to 34
kPa) as indicated on low pressure gauge.
(9) Verify nitrogen is being vented from sealscrew
hole  and  observe  humidity  indicator.
(10)

Purge  telescope  until  all  sections  of  indicator  are
blue. During purge, lubricate preformed packings lightly
with  silicone  compound.
(11)

Close pressure regultor valve and tighten set-
screw.
(12)

Remove dessicator from telescope body and refill
desiccator to level slightly below threads.
(13)

Lightly lubricate preformed packing on top part
of desiccator with grease or silicone compound.
(14)

Install top part of desiccator to bottom.
(15)

Lightly  lubricate  preformed  packing  with  grease
or  silicone  compound.
(16)

Install  desiccator  on  telescope  body  and  tighten
to 20 to 30 in lb. (2.25 to 3.39 Nm).
(17) Slowly open pressure regulator valve and charge
instrument to 2.0 + or - .0.5 psig (14 + or - 3 kPa). Tighten
setscrew when pressure regulator gauge stabilizes.
(18)

If  overpressurization  occurs,  slowly  open  set-
screw, adjust pressure regulator to 2.0 + or - 0.5 psig; then
tighten setscrew when pressure regulator gauge stabilizes.
(19)  

Close  pressure  regulator  gauge.  Remove  hose
assembly and replace cap on nut of valve and install lock-
wire.
(20)

Close tank supply valve and verify on high pres-
sure gage.