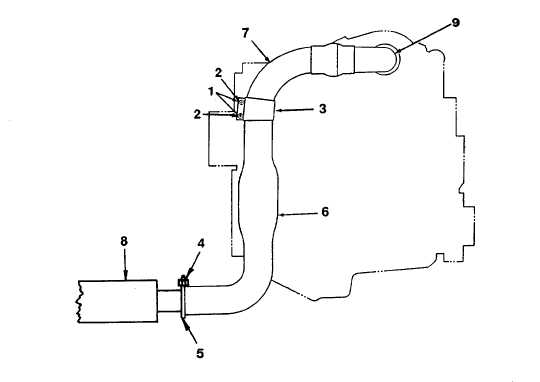 TM 5-4210-233-14&P-1
5-44.  EXHAUST PIPE AND EXHAUST OUTLET PIPE
This task covers:
a
Removal
c.
Follow-on Maintenance
b
Installation
TOOLS REQUIRED
EQUIPMENT CONDITION
Tool Kit, General Mechanics, Automotive
Main Engine Shutdown (see para 2-12.)
(Appendix B, Section 111, Item 1)
APU Shutdown (see para 2-16.)
Batteries Disconnected (see para 4-114.)
a.
Removal.
(1)   Open passenger side engine cover.
WARNING
Exhaust parts can be hot enough to cause severe bums. Allow
exhaust system to cool before servicing.
(2)   Remove two nuts (1), two bolts (2) and seal clamp (3).
(3)   Loosen two nuts (4) from muffler clamp (5) and grind off any tac-welds.
(4)   Remove exhaust pipe (6) from exhaust outlet pipe (7) and muffler (8).
(5)   Remove V-band clamps (9) and remove exhaust outlet pipe (7) from engine.
5-323