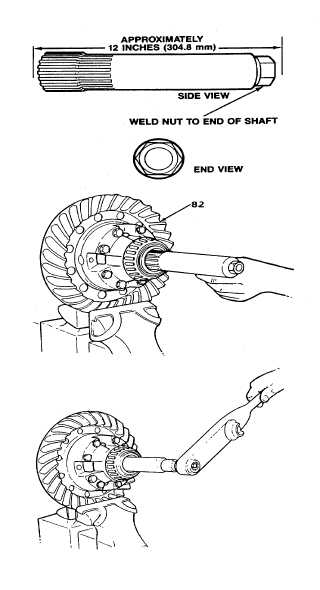 TM 5-4210-233-14&P-1
5-43.  FORWARD TANDEM AXLE AND DRIVE UNIT-Continued
(29)
Fabricate a tool from an axle shaft that
matches spline size of differential side gear as
shown.
(30)
Install differential case and ring gear assembly
(82) in a vise with protected jaws.
(31)
Install the fabricated tool into the differential
until splines on tool and side gear are engaged

.
(32)
Attach a torque wrench to the nut on the tool
and rotate the gears in the differential case. As
gears rotate, read value indicated on the torque
wrench. Maximum torque of rotating resistance
is 50 lb ft (67 Nm). If the torque value exceeds
specifications, disassemble differential core
and ring gear assembly (82) and check parts
for a damage or other evidence of impairing
rotating torque. Assemble differential case and
ring gear assembly (82) as described and
again check rotating resistance.
5-307