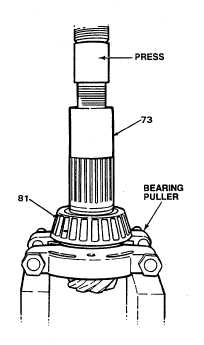 TM 5-4210-233-14&P-1
5-43.  FORWARD TANDEM AXLE AND DRIVE UNIT-Continued
(40)
Remove the inner bearing cone (81 ) from the pinion.  Place bearing puller under the bearing.  Put
a protector on the shad of the drive pinion (73) and press the pinion out of the bearing cone (81).
c.  

Cleaning

and

Inspection

.
WARNING
Dry  cleaning  solvent  P-D-680  is  potentially  dangerous.    Avoid
repeated  and  prolonged  breathing  of  vapors  and  skin  contact
with the liquid.  Do not use near open flame, arcing equipment
or   other   ignition   sources.      Always   wear   eye   protection   and
protective  clothing.    The  flash  point  of  P-D-680  is  100  to  138
deg.  F (30 to 59 deg.  C).
Compressed  air  used  for  cleaning  purposes  will  not  exceed  30
psi   (207   kPa).      Use   only   with   effective   chip   guarding   and
personal protective equipment, goggles, shield and gloves.
(1)
Clean   all   metal   parts   in   dry   cleaning   solvent   (stem   3,   Appendix   E)   and   dry   thoroughly   with
compressed air (except bearings).
(2)
Clean all gasket material from mounting and mating surfaces of differential carrier housing (5).
(3)
Inspect  all  bearings  for  wear,  pitting,  rust,  cracks  and  surface  breaks.    Replace  all  damaged
bearings.  Replace bearings in sets, new cones and cups.
(4)
Inspect surfaces of the following for wear, cracks and scoring (see para 4-9).
(a)   Inside surfaces of both case halves.
(b)   Four trunnion ends of the spider.
5-298