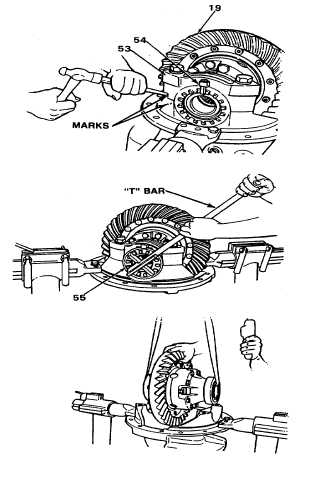 TM 5-4210-233-14&P-1
5-43.  FORWARD TANDEM AXLE AND DRIVE UNIT-Continued
(26)
Move  the  differential  carrier  to  bring  ring  gear  (19)  facing  toward  the  front.    Use  a  hammer  and
punch and match mark position of bearing caps (53) on legs of differential carrier.
(27)
Use a hammer and a drift and remove the lock pins (54) from the bearing caps (53).
(28)
Engage a T-bar wrench or equivalent tool in the adjusting ring (55) and loosen, but do not remove
adjusting rings (55).
(29)
Remove four screws (56) and washers (57) and remove bearing caps (53) and adjusting rings (54)
from carrier.
WARNING
Serious  injury  could  occur  if  heavy  equipment  is  moved/lifted
without  sufficient  personnel  to  do  the  job.    Use  proper  physical
lifting procedures or use a suitable lifting device or dolly.  Wear
safety shoes, gloves and other suitable protective clothing.  Area
should be clear of other personnel.  Serious injury or death can
result from falling objects.
(30)
Use a lifting device and lifting sling and remove main differential case and ring gear (19) assembly
from carrier.
(31)
Remove bearing cups (58) from carrier.
5-294