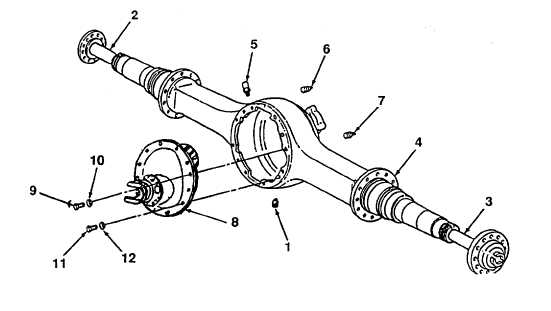 TM 5-4210-233-14&P-1
5-42.  REAR TANDEM AXLE AND DIFFERENTIAL-Continued
(c)    Install cotter pins (2) between lugs of adjusting rings (3) and through boss of bearing cap (36).
Bend two ends of cotter pin around the boss.
(42)
Install deflector (22) and yoke (20) on drive pinion and secure with nut (21).  Tighten nut to a torque
of 200 to 275 lb ft (271 to 373 Nm).
WARNING
·
Dry cleaning solvent P-D-680 is potentially dangerous.
Avoid repeated and prolonged breathing of vapors and skin
contact with the liquid.  Do not use near open flame, arcing
equipment or other ignition sources.  Always wear eye
protection and protective clothing.  The flash point of P-D-
680 is 100 to 138 deg. F (30 to 59 deg. C).
·
Compressed air used for cleaning purposes will not exceed
30 psi (207 kPa).  Use only with effective chip guarding and
personal protective equipment, goggles, shield and gloves.
(43)
Clean the inside of the axle housing and differential mounting surface with dry cleaning solvent
(Item 3, Appendix E) and dry thoroughly with compressed air.
WARNING
Serious  injury  could  occur  if  heavy  equipment  is  moved/lifted
without  sufficient  personnel  to  do  the  job.    Use  proper  physical
lifting procedures or use a suitable lifting device or dolly.  Wear
safety shoes, gloves and other suitable protective clothing.  Area
should be clear of other personnel.  Serious injury or death can
objects
.
5-281