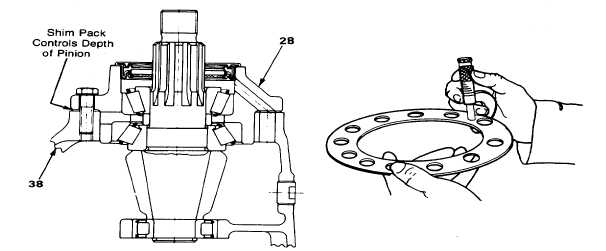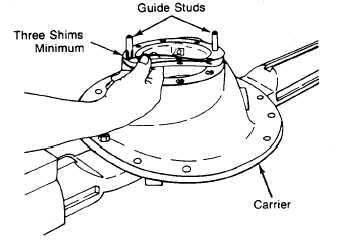 TM 5-4210-233-14&P-1
5-42.  REAR TANDEM AXLE AND DIFFERENTIAL-Continued
(13)
Measure the thickness of the shim pack (27) that was removed during disassembly.
(14)
Check the pinion cone variation number stamped on the inside end of drive pinion.  Record the
number.  The number refers to inches (i.e. +2 equals 0.002 inch) (0.508 mm).  If the number is a
plus, subtract the number from the old shim pack.  If the pinion number is a minus (-) add the
number to the shim pack.
(15)
Install the drive pinion (18), bearing cage (28) and new shim pack (27) on the carrier (38).
(a)  Install the correct shim pack (27) between the bearing cage (28) and carrier (36).
5-269