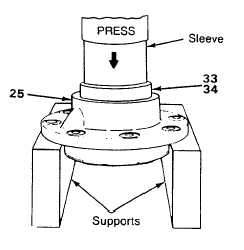 TM 5-4210-233-14&P-1
5-42.  REAR TANDUM AXLE AND DIFFERENTIAL - Continued
(a)   Inspect inside surface of both case halves for wear and damage.
(b)   Inspect surfaces of thrust washers for wear and damage.
(c)   Check ends of spider supporting gears for gouges, nicks and wear.
(d)   Inspect teeth and splines on side gears for wear and damage.
(e) Inspect teeth and bore on ail differential pinions.
(5)
Inspect axle housings for cracks, damage, evidence of leakage and damaged mounting surfaces (see
para 4-9).
(6)
Replace all oil seals.
(7)
Replace all damaged or unserviceable parts.
d.
Assembly
.
(1)
Place bearing cage (25) on wood blocks in a press.
5-264