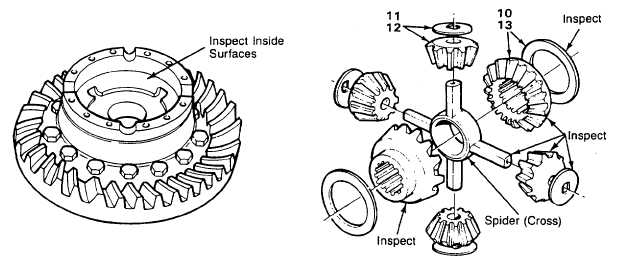 TM 5-4210-233-14&P-1
5-42.  REAR TANDUM AXLE AND DIFFERENTIAL - Continued
c.
Cleaning
and
Inspection
.
WARNING
·
Dry   cleaning   solvent   P-D-680   is   potentially   dangerous.
Avoid  repeated  and  prolonged  breath-  ing  of  vapors  and
skin  contact  with  the  liquid.    Do  not  use  near  open  flame,
arcing  equipment  or  other  ignition  sources.    Always  wear
eye protection and protective clothing.  The flash point of P-
D-680 is 100 to 138 deg.  F (38 to 59 deg.  C).
·
Compressed air used for cleaning purposes will not exceed
30 psi (207 kPa).  Use only with effective chip guarding and
personal protective equipment, goggles, shield and gloves.
(1)
Clean ail metal parts in dry cleaning solvent (Item 3, Appendix E) and dry thoroughly with compressed
air (except bearings).  Coat parts in a light film of engine oil (Item 20, Appendix E) and place on clean
surface.
(2)
Inspect tapered roller bearing cones (32, 19 and 29) for wear, damage to rollers and damage to cup
(35,  33  and  34)  inner  surface.    Inspect  bearing  (35)  for  damage.    Replace  any  worn  or  damaged
bearings.
(3)
Inspect drive pinion (18) and ring gear sets for wear and damage (see para 4-9).
CAUTION
Drive   pinion   and   ring   gear   are   machined   in   matched   pairs.
When replacing a gear the entire set must be replaced.
(4)
Inspect main differential assembly as follows (see para 4-9):
5-263