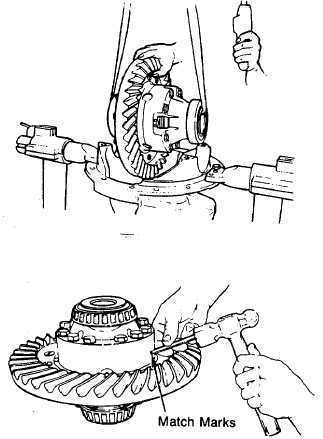 TM 5-4210-233-14&P-1
5-42.  REAR TANDUM AXLE AND DIFFERENTIAL - Continued
(13)  Match mark one carrier leg and bearing cap to aid in installing caps in same position when assembling
carrier.
(14)  Remove  cotter  pins  (2)  holding  the  two  bearing  adjusting  rings  (3)  in  position.    Use  a  small  drift  to
remove the pins.
(15)  Remove  four  screws  (4)  and  washers  (5)  securing  bearing  caps  (6)  to  differential  carrier.    Remove
bearing caps and two adjusting rings (3) from carrier.
(16)  Using  a  strap  and  a  lifting  device,  lift  main
differential from the carrier.  Place the main
differential on a clean work bench.
(17)  Check   differential   case   halves   for   match
marks.  If match marks are not visible, match
mark each case half with a center punch and
hammer.
(18)  Remove sixteen screws (7) and washers (8).
Separate the case halves (9).  Use a leather
or plastic mallet to loosen case halves.
(19)  Remove  two  thrust  washers  (10),  four  thrust
washers (18), four pinion gears (12), two side
gears (13) and spider (14).
(20)  Remove twelve nuts (15), washers (16) and screws (17) and separate ring gear (18) from case half
(9).
5-260