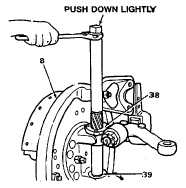 TM 5-4210-233-14&P-1
5-40.  FRONT STEERING AXLE-Continued
(8)   Use a reamer made to the dimensions and type shown. The reamer must meet the following criteria.
(a)   Material - High speed steel.
(b)   Number of Blades -1 0 to 14.
(c)   Cut of Blades - Right hand cut, left hand flute.
(d)   Length of Blades - 2.50 inches (63.5 mm).
(e)   Dimension A- 1.780 inches (45.212 mm).
(f)
Dimension B - 1.7955 inches (45.6057 mm).
(g)   Dimension C - 1.7900 inches (45.466 mm).
(h)   Dimension D - 10.25 inches (260.35 mm).
(i)
Dimension E (upper pilot length) -12.25 inches
(311.15 mm).
(9)   Ream only with a fixed reamer. Do not hone or burnish bushings. Slide the pilot of the reamer through
top bushing (38) in knuckle (8) until reamer blades contact the bushings.
(10)  Rotate the reamer with a light downward pressure. Do not apply too much force. Rotate the reamer
smoothly.
(11)  After reamer cuts through top bushing (38), make sure reamer does not drop to bottom bushing (39).
Guide reamer into bottom bushing and repeat reaming procedure. Slide the reamer out through bottom
bushing.
(12)  Thoroughly clean ail chips and reamer residue from bushings.
5-242