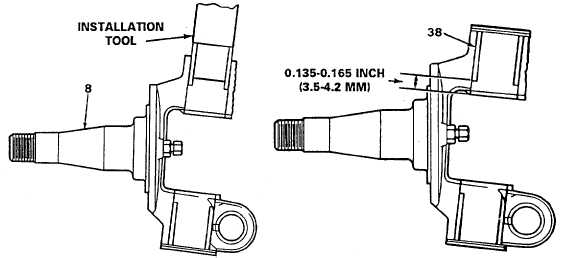 TM 5-4210-233-14&P-1
5-40.  FRONT STEERING AXLE-Continued
(3)   Press bushing into bore until there is 0.135 to 0.1 65 inch (3.5 to 4.2 mm) between bottom of
bushing and bottom of top bore.
(4)   Turn knuckle over so that bottom of knuckle is at top. Make sure the bore of the bushing is parallel
to the top of the press.
(5)   Press bottom bushing into bore in same manner as described for top bushing. Press bushing into
bore until there is 0.135 to 0.165 inch (3.5 to 4.2 mm) between bushing and bottom of bore.
(6)   Use a micrometer and telescoping gauge to measure inner diameter of bushings.
(7)   Inside diameter should measure 2.001 inch (50.82 mm). If diameter does not meet specifications,
replace or ream bushing.
5-241