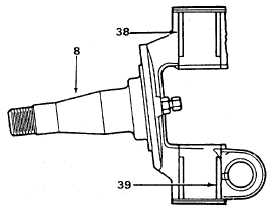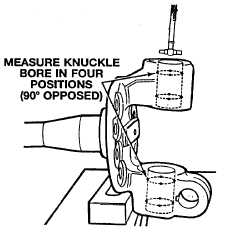 TM 5-4210-233-14&P-1
5-40.  FRONT STEERING AXLE-Continued
(17)
Place the knuckles (8) in a press with at least
5 ton (4500 kg) capacity. Install fabricated tool
in top bushings (38) and press top bushings
from knuckles bores. Repeat for bottom
bushings (39).
39.
b.
Cleaning
and
Inspection
.
WARNING
•   Dry cleaning solvent P-D-680 is potentially dangerous. Avoid
repeated  and  prolonged  breathing  of  vapors  and  skin  contact
with the liquid. Do not use near open flame, arcing equipment or
other    ignition    sources.    Always    wear    eye    protection    and
protective clothing. The flash point of P-D-680 is 100 to 138 deg.
F (38 to 59 deg. C).
•     Death   or   serious   injury   could   occur   if   compressed   air   is
directed   against   the   skin.   Do   not   use   compressed   air   for
cleaning
or
drying
unless
the
pressure
is/has
been
reducedto30psi(2.11   kg/cm2)   )   or   less.   When   working   with
compressed  air,  always  use  chip  guards,  eye  protection,  and
other personal protective equipment.
(1)   Clean all metal parts in dry cleaning solvent and use compressed air to dry thoroughly.
(2)   Apply a light film of engine oil (OE) (Item 20, Appendix E) to parts after drying. Place parts on
clean cloth or container until ready for assembly.
(3)   Use a micrometer and telescoping gauge to.
measure inside diameter of knuckle bore. Measure at
two positions at the center line of the side of the
knuckle.
(4)   Knuckle bore dimension should be not more
than 2.127 inch (54.025 mm). If dimension exceeds
specifications, replace knuckle.
5-239