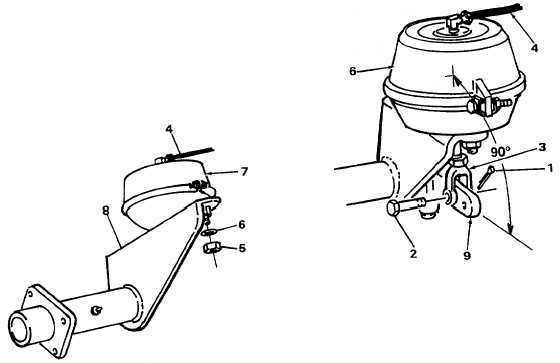 TM 5-4210-233-14&P-1
5-35  FRONT BRAKE AIR CHAMBER
This task covers:
a.
Removal
c.
Follow-on Maintenance
b.
Installation
TOOLS REQUIRED
EQUIPMENT CONDITION
Tool Kit, General Mechanics, Automotive
Main Engine Shutdown (see para 2-12.)
(Appendix B, Section III, Item 1)
APU Shutdown (see para 2-16.)
Batteries Disconnected (see para 4-114.)
MATERIALS/PARTS REQUIRED
Parking Brake Set (see para 2-12.)
Pipe Sealant (Item 2, Appendix E)
a.
Removal
.
(1)
Remove cotter pin (1) and clevis pin (2) from air chamber push rod clevis (3).
(2)
Disconnect brake air chamber air line (4).
(3)
Remove nuts (5) and washers (6) attaching brake air chamber (7) to bracket (8).
5-201