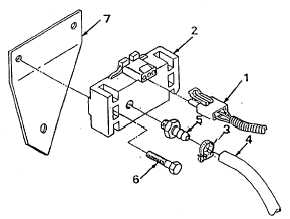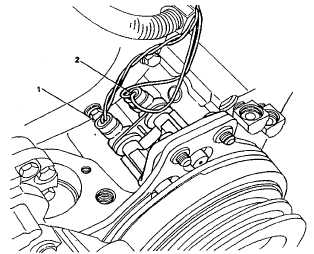 TM 5-4210-233-14&P-1
5-28.  DDEC ELECTRONIC CONTROL MODULE AND SENSORS - Continued
(3)   Installation.
(4)   (a)   Install turbo boost sensor (2) on
bracket (7). Secure sensor with two
screws (6).
(b)   Slide hose clamp (3) on hose (4) and
connect hose (4) to fitting (5). Tighten
clamp (3) to secure hose.
(c)   Connect wiring harness (1) to Turbo
Boost sensor (2).
d.
Synchronous
Reference
Sensor
(SRS)
And
Timing
Reference
Sensor
(TRS)
.
(1)   Removal
(a)   Disengage the locking tangs on the SRS connector (1). Grasp the connector bodies and
gently pull them apart. Repeat this procedure for the TRS connector (2).
5-187