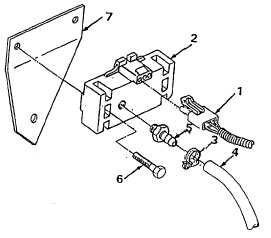 TM 5-4210-233-14&P-1
5-28.  DDEC ELECTRONIC CONTROL MODULE AND SENSORS - Continued
(3)
Installation.
(a)   Install bracket (14) in position on engine and secure with two screws (15) and lockwashers (5).
Install screws (3, 16 and 17), three lockwashers (2) and three flat washers (1).
(b)   Install plate (10) and shield (12) on control module (13) and secure with eight screws (11).
(c)   Install fitting block (7) on end of plate (10).  Install new seals (8) and secure fitting block to plate
with two screws (9).
(d)  Install eight isolator mounts (4) on control module (13) and install module in position on bracket
(14) and secure with four screws (6) and lockwashers (5).
(e)   Connect two fuel hoses to fitting block (7).
(f)
Refer to a. above and connect wiring harnesses to control module.
c.
Turbo
Boost
Air
Pressure
Sensor
.
(1)   Removal.
(a)   Disconnect wiring harness (1) from
air pressure sensor (2).
(b)   Loosen  clamp  (3)  and  disconnect
hose (4) from hose fitting (5).
(c)   Remove   two   screws   (6)   and   lift
turbo    boost    pressure    sensor    (2)
from bracket (7).
(2)
Cleaning and Inspection.
(a)   Wipe sensor and hose clean with a
dry,  clean,  lint  free  cloth  (Item  42,
Appendix E).
(b)   Inspect   hose   for   cracks,   damage
and evidence of leakage.
(c)   Inspect hose fitting for damaged
threads.
(d)   Replace any damaged components.
5-186