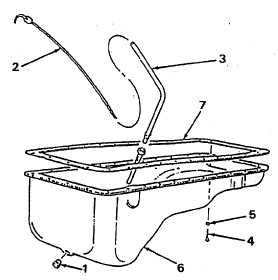 TM 5-4210-233-14&P-1
5-27.  OIL PAN
This task covers:
a.
Removal
c.
Installation
b.
Cleaning
d.
Follow-on Maintenance
TOOLS REQUIRED
EQUIPMENT CONDITION,
Tool Kit, General Mechanics, Automotive
Main Engine Shutdown (see para 2-12.)
(Appendix B, Section 111, Item 1)
APU Shutdown (see para 2-16.)
Batteries Disconnected (see para 4-114.)
MATERIALS/PARTS REQUIRED
Dry Cleaning Solvent (Item 3, Appendix E)
Engine Oil (Item 20, Appendix E)
Retaining Compound (Item 7, Appendix E)
Gasket (Fig.  115, Appendix F)
a.
Removal
.
(1)   Remove the drain plug (1), and drain the engine oil into a suitable container.
(2)   Remove the dipstick (2) from dipstick tube (3).
(3)   Remove eighteen capscrews (4) and eighteen washers (5).
(4)   Support the oil pan (6) and using a soft faced hammer, tap the oil pan to loosen it from the cylinder
block, being careful not to damage the oil pump piping and inlet screen.  Remove oil pan.
(5)   Remove gasket (7) and discard.  Ensure all gasket material is removed from cylinder block.
5-180