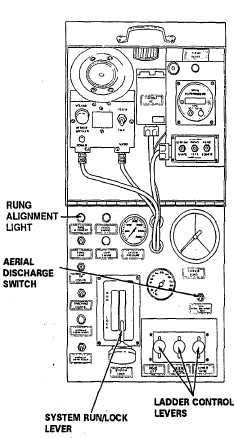 TM 5-4210-233-14&P-1
2-14.  AERIAL LADDER SET-UP - Continued
e.
Positioning
Ladder
.  Before starting to position ladder, the
ladder operator should make a thorough inspection of the
area around the ladder.  The outriggers must be securely
positioned and the surrounding area should be clear of
obstructions.
WARNING
Ladder   must   not   be   occupied   during   ladder
positioning.    Crushing  injury  can  occur  during
ladder  extension  or  retraction.    Sudden  ladder
movement   may   cause   personnel   to   fall.      An
operator must be at the tumtable controls at all
times when the aerial ladder is in use.
NOTE
Refer  to  para  2-15  for  emergency  aerial  operating
procedures.
(1)   Open aerial control panel cover.
(2)   Move SYSTEM LOCK lever to RUN position.
(3)   Using the LOWER/RAISE aerial control lever, raise the
ladder enough to clear ladder bed locks.
CAUTION
The  ladder  controls  should  be  operated  slowly  and  smoothly.
Sudden  ladder  movement  is  magnified  at  the  ladder  tip.    This
may damage the equipment.
The  ladder  control  operator  should  always  keep  visual  contact
with ladder.  If operator's attention is diverted, ladder movement
should  be  stopped  and  SYSTEM  LOCK  lever  moved  to  LOCK
position.
WARNING
Do not allow personnel to climp or descend ladder unless RUNG
ALIGNMENT light is on.  Injury or death may result.
(4)   Operate   ladder   controls   until   ladder   is   in   position.      All   three   ladder   controls   can   be   operated
simultaneously.
(5)   When  aerial  ladder  is  in  position  for  rescue/firefighting  operation,  move  SYSTEM  LOCK  lever  to
LOCK position.
2-57