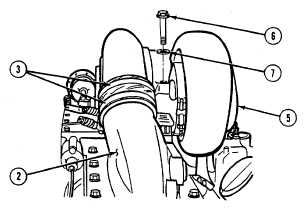 TM 5-4210-233-14&P-1
5-23.  TURBOCHARGER-Continued
(7)   Install two screws (6) with lock
washers just enough to hold the
turbocharger tight against the
bracket.
(8)   Position two clamps (3), one over air
inlet adapter (2) and one over
turbocharger (5).
(9)   Tighten clamps (3).
NOTE
Secure    the    clamps    with    the    "T"
section   positioned   away   from   the
parting line on the air inlet housing.
CAUTION
When  installing  the  left  bank  exhaust  manifold  to  turbocharger
tube on a blower mounted turbocharger, it is very important that
the tube is installed correctly.  If the tube in installed incorrectly,
it can crack in the flange area and adversely affect performance.
(10)
The solid left bank tube is almost symmetrical, thus it is difficult to identify which end goes where.
Therefore,  position  the  tube  between  the  exhaust  manifold  and  the  turbocharger  and  check  to
determine  that  the  conical  seat  at  each  end  of  the  tube  is  a  flush  fit  with  the  openings.    If  not,
reverse the position of the tube and recheck to be sure each end of the tube is a flush fit with the
openings.
(11)
To help in the installation of the tube, loosen the exhaust manifold mounting bolts and then tighten
them alternately while tightening the tube clamps.
NOTE
Be  sure  the  exhaust  manifold  remains  seated  on  the  locating
pads on the cylinder head.
5-160