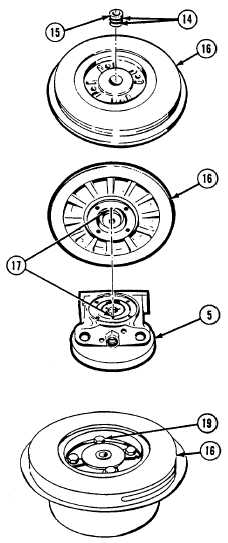 TM 5-4210-233-14&P-1
5-23.  TURBOCHARGER-Continued
NOTE
Flat surface of thrust spacer faces up.
(6)   Install two new piston rings (14) on thrust spacer (I5).
(7)   Install thrust spacer (15) in compressor backplate (16).
(8)   Align oil lubrication holes (17) in backplate (16) and center
housing (5) and install backplate on center housing.
CAUTION
Used
backplates
must
not
be
reused.      Screws   can   come   loose
and destroy turbocharger.
(9)   Install four screws (19) in backplate (16).
(10)  Tighten screws (19) to 80 to 100 lb in (9 to 11 Nm).
NOTE
If  a  new  backplate  with  a  warning
plate  is  inadvertently  installed,  the
warning plate must be removed and
the three drive screw holes plugged
to prevent air leakage.
5-155