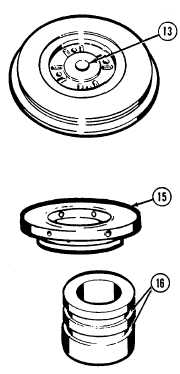 TM 5-4210-233-14&P-1
5-23.  TURBOCHARGER-Continued
(11)
Seal bore (13) must not be greater than 0.6895-in
(17.513 mm).
(12)
Thrust collar (15) thickness must not be less than 0.2970-in.  (7.543
mm) Thrust collar bore inside diameter must not be greater than
0.3778-in.  (9.596 mm).
(13)
Thrust spacer (16) ring grove width will not be greater than 0.0715-in
(1.816 mm) Outside diameter must not be less than 0.6705-in.
(17.030 mm).
(14)
Replace damaged parts or parts worn beyond specifications.
5-153