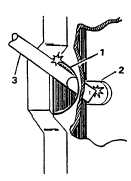 TM 5-4210233-14&P-1
5-18.
ALTERNATOR -Continued
(26)
Check battery voltage and ground polarity.  They must be the same as truck.  The system is 12
volt.
(27)
Engage switch and start test stand, and slowly increase alternator speed to 5000 rpm.  Check
multimeter for voltage.
(28)
If voltage does not increase and remains at or below l2 volts, there is no alternator output.  Check
as follows:
(a)   Insert a screwdriver (3) in "D" shaped hole (1) in frame.  Do not
insert screwdriver more than 3/4 inch (19 mm) into hole.
(b)   Screwdriver should contact tab (2) on grounding brush.  Tilt
screwdriver slightly to ground tab to frame.
(c)   Again adjust carbon pile to obtain maximum output on ammeter
(item 94, Section III, Appendix B) without allowing voltage to fail
below 13 volts.
(d)   Record voltage reading, turn off carbon pile and stop test stand.
(e)   If there is still no output, disassemble alternator and check rotor
and brushes for an open circuit.
(f)    Check internal electrical connections to be sure grounding and
insulated mounting screws are installed in proper locations.
(29)
If voltage increases above 15 volts the voltage is uncontrolled.
(a)   Check to see alternator has been assembled properly.
(b)   Check to see that test tab in "D" hole is not grounded.
(c)   If alternator has been assembled properly and tab is not grounded, replace regulator.
(30)
With alternator installed in test stand, run alternator at about 6500 rpm.  Turn on carbon pile load
and adjust to obtain maximum alternator output on ammeter without allowing multimeter reading to
fall below 13 volts.  If output is now up to 30 amps alternator is good.  Turn off carbon pile and stop
test stand.
(31)
If ammeter reading is below 28 to 30 amps, proceed as described in (28) above.
d.
Follow
-
on
Maintenance
.
(1)   Install Alternator (see para (4-133).
5-108