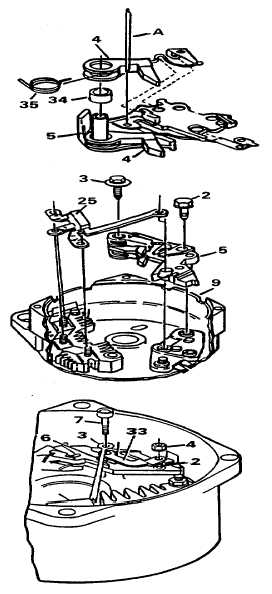 TM 5-4210-233-14&P-1
5-18.  ALTERNATOR-Continued
(11)
Install brushes (4) with springs (35) and
spacers (34) on post of brush holder
(5).  Install pin (A) to hold brushes in a
retracted position.
(12)
Install assembled brush holder (5) in
frame (9).  Install brush holder pivot
screw (3) and insulated regulator screw
(2).  Tighten screws finger tight.
(13)
Install diode trio (25) on three studs on
rectifier bridge. Install long connector
on diode over closest mounting hole in
brush holder.
(14)
Install connector (33) on stud (2).  
Mount other end over brush holder
mounting hole (3).  Install nut (4) on
stud (2) and tighten finger tight.
(15)
Install regulator screw (7) through
diode trio connector (6).  Tighten finger
tight.
5-105