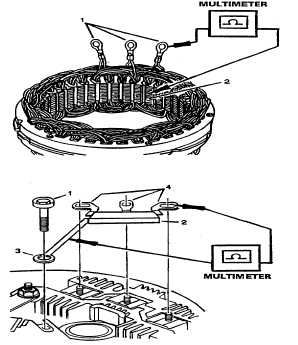 TM 5-4210-233-14&P-1
5-18.  ALTERNATOR-Continued
(13)
Remove nut (23), washer (22), pulley (38) and fan (21).
(14)
Pull or press rotor (16) from drive end frame (20).
(15)
Remove three screws (17) and remove retaining plate (18) from frame.
(16)
Inspect drive end bearing (19) for wear and damage.  If worn or damaged r
emove drive end
bearing.
b.
Cleaning
and
Inspection
.
(1)
Clean all components by wiping with a
clean, dry, lint free cloth (Item 42,
Appendix E).
(2)
Test stator.  Use a multimeter to check
for continuity.  There should be no
continuity between stator leads (1) and
stator laminations (2).  If there is no
continuity, stator is good.  If continuity
is present, replace stator.
(3)
Check diode trio (2).  Place negative
lead on regulator strap (3) and positive
lead to each of the three rectifier bridge
straps (4).  All three readings should
indicate continuity.  Reverse the
multimeter leads and perform check
again.  Readings should all indicate
open circuits.  If all readings are
proper, diode trio is good.  If any
reading is wrong, replace diode trio.
5-101