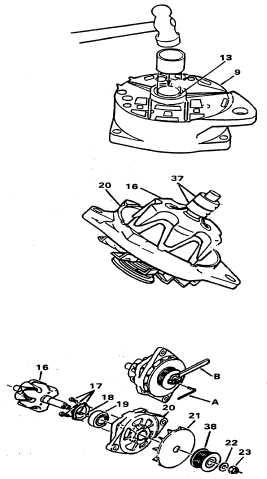 TM 5-4210-233-14&P-1
5-18.  ALTERNATOR-Continued
(10)
Check bushing (13) in housing (9).  If
bushing is worn or damaged, replace
bushing.  Use a tube or sleeve with a
diameter slightly less than bore of
frame.  Drive bushing (13) through
inside of housing (9), using a hammer
on the sleeve.
(11)
Hold frame (20) and spin rotor (16) by
hand to see that rotor spins freely.  
Check slip rings (37) for wear and
damage.
(12)
Remove shaft nut (23) by placing a
5/16 inch (8 mm) hex wrench (A) in
end of shaft to hold shaft while
removing nut with wrench (B).
5-100