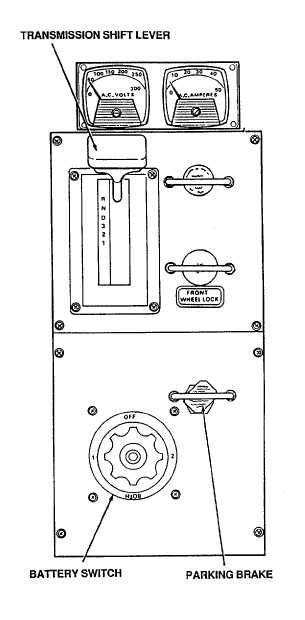 TM 5-4210-233-14&P-1
SECTION Ill.  OPERATION UNDER USUAL CONDITIONS
2-10. ASSEMBLY AND PREPARATION FOR USE

.  Before starting, driving and testing the truck, carry out the
lubrication instructions detailed in Chapter 3. Fuel up the truck, and fill the water and foam tanks.
2-11.    INITIAL  ADJUSTMENTS

.    All  subsystems  and  components  requiring  adjustments  are  pre-set  by  the
manufacturer and no special procedures are required.  Carry out all routine checks and inspections as detailed
in Operators PMCS Procedures (para 2-9).
2-12.  OPERATING PROCEDURES
a.
Starting
the
Engine
.
(1)   Set battery switch to BOTH.
(2)   Be sure that the parking brakes are engaged:
the PARKING BRAKE button is pulled OUT.
(3)   Be sure that the transmission shift lever is in N
(neutral) position.
NOTE
The transmission neutral start switch prevents
starting unless the transmission is in neutral.
(4)   Turn the IGNITION ON/OFF switch to ON.
(5)   Depress   the   two   START   buttons   until   the
engine starts, or a maximum of 30 seconds. If
the   engine   fails   to   start,   wait   one   to   two
minutes    and    repeat    the    starting    attempt.
Waiting
between
starting
attempts
is
necessary    to    prevent    overheating    of    the
starter motor.
NOTE
If  starting  in  cold  weather,  depress  ETHER
START  switch  button  for  1-2  seconds.  If  the
engine   fails   to   start   after   several   starting
attempts, consult the troubleshooting chart in
Chapter 3, Section II.
NOTE
The  alarm  lamps  will  sound  and  illuminate
when the engine is started and the air system
pressure   is   below   65   psi   (450   kPa).   The
audiovisual  signals  will  cease  once  the  air
system pressure exceeds 65 psi (450 kPa) as
indicated on gauges.
2-46